The Churubusco Chamber of Commerce and the Town of Churubusco are pleased to announce the 2nd Annual 'Busco Block Party featuring a free performance by Big Daddy Dupree and the Broke and Hungry Blues Band. This band is always entertaining, and will be sure to be enjoyed by young and old alike!
This free, all ages event will be held Saturday, August 29 from 4-8 pm in the PNC Bank parking lot located at 102 N. Line St., Churubusco. Vendors and merchants will be selling concessions and giving away prizes. Shroyer's Variety and K&K Video will also be sponsoring a dunk tank featuring local 'Busco celebrities with all proceeds benefitting the Churubusco Chamber.
In its inception year, over 200 people attended the Block Party. "Big Daddy is such a great band with a large following. We anticipate this event being huge and a great time for everyone who attends." says Chamber Vice-President, Kevin Rothgeb. Attendees are encouraged to bring lawn chairs a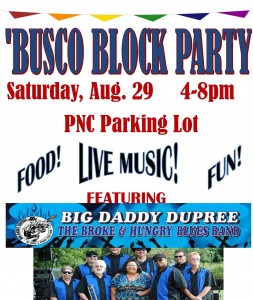 nd the event will be held rain or shine.
Special thanks to all of our sponsors- Cohen & Johnson Orthodontics, Michelle's Uptown, Papa's Place, Churubusco VFW, Sheets & Childs Funeral Home, PNC Bank, Churubusco Family Dentistry, Churubusco Rotary, H&R Block, K&K Video, Shroyer's Variety, Churubusco Dollar General, Turtle Days Association, C&A Tool, Farmers & Merchants Bank, Perry Pro Tech, Churubusco Watch & Jewelry, Fort Financial Credit Union, Salesman & Son Trucking, DLZ, King Realty, Biddle Chiropractic, Gordon & Sloffer, Wilma's Health Care, Churubusco Child Care, Passages, Inc, Churubusco Rotary, Star Financial Bank, and the Churubusco Masonic Lodge.
For more information, visit the Churubusco Chamber of Commerce Facebook page.