It is that time again! Churubusco is pleased to announce the 4th Annual Town Wide Garage Sales! Sales will be held September 25 & 26th throughout Churubusco and surrounding Green & Smith Townships.
Last year, over 70 garage sales occurred throughout Churubusco and it is anticipated this year's event will be just as big! A map of garage sales can be found in the September 23rd edition of the Churubusco News. If you are having a sale and would like to be included on the map, contact Madalyn Bartl at madalyn@townofchurubusco.com or (260) 693-9350 by Sept. 18.
Other events are scheduled to occur throughout Town during the weekend and many businesses will be holding sidewalk sales and specials for all those visiting 'Busco, including the first annual fine arts fair sponsored by the Churubusco Library happening all day Saturday on Washington Street!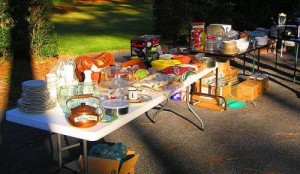 Further information can be found on the Town's Facebook page. Join us for this huge event and find some bargains for the whole family!